This could be the best ever response to a request for more pocket money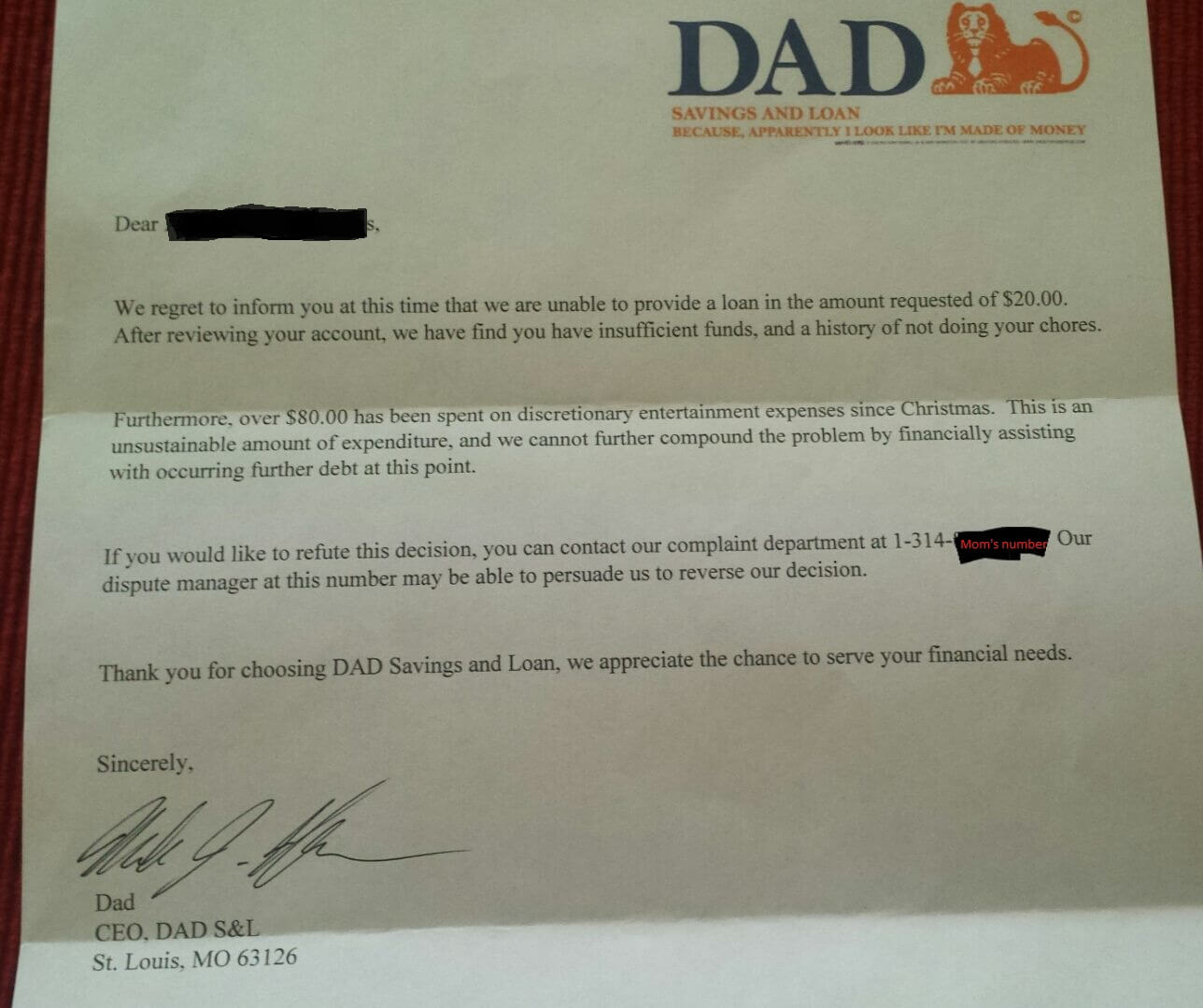 |
<!- google_ad_section_start ->
See how this Dad nailed a pocket money increase request…
As parents it seems like a never ending of list of things that our kids want – we are inundated with requests for this and that. Particularly after Christmas, some of us might feel a little broken and bruised by our credit card bills slowly rolling in. So when this little boy asks for some extra pocket money, his Dad's response is priceless.
Imgur, user Sonan303 uploaded a picture of the letter to share with other users and captioned it:
'Our six-year-old asked Dad for an advance on his allowance for a toy. This is the response he got.'
Dad looks as though he has gone to a lot of trouble to make the 'official letter' look the part. Designing his own ING bank inspired letterhead, branding, well himself. The hilarious slogan for the bank reads, 'Savings and loan: Because apparently I look like I'm made of money'.
The letter reads, 'We regret to inform you at this time that we are unable to provide a loan in the amount requested of $20.00. After reviewing your account, we find you have insufficient funds, and a history of not doing your chores.'

Further details given in the letter included,

"over $80.00 has been spent on discretionary entertainment expenses since Christmas".

'This is an unsustainable amount of expenditure, and we cannot further compound the problem by financially assisting with incurring further debt at this point.'
The letter does include an appeal process for the decision made for the child in question: 'If you would like to refute this decision, you can contact our complaint department at [Mom's number]. Our dispute manager at this number may be able to persuade us to reverse our decision.'
Users on the Imgur site went into meltdown over the cleverness of the letter.  The post has been viewed over three million times as many tired and frustrated parents resonate with the demands for "extra money" by our little money suckers. Responses included:
'As a father of a two-year-old, I am saving this for later,' while LookHereSon posted 'You made this? This is mine now.'
All eyes are now on Sonan303 as we eagerly await the update on the appeal process. In the meantime, bravo Dad, bravo!