World's Greenest Luxury Hotel Designed to Sail the Seas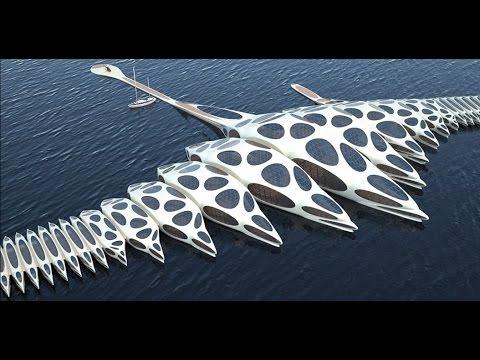 |
<!- google_ad_section_start ->
MoRPHotel Concept Floating Hotel Come Cruise Ship
The MoRPHotel (no I haven't accidentally help down the Caps Lock – the designer really does spell the name like that) is the concept of 32 year old Gianluca Santosuosso.
The MoRPHotel concept is designed as a luxury hotel that can traverse the World's oceans. Once started on its never ending journey guests will need to travel to board it wherever in the World it may be. It's slow travel will provide ever changing views and climates. Its ability to dock with cities allows for more traditional sight seeing opportunities.
Its spine of interlocking hulls, extending for a distance of over half a mile, can flex independently allowing it to move safely to ride swells and waves.  The pods at either end of the spine can detach and be used as motor launches allowing guests the ability to see parts of the ocean the giant floating hotel cannot reach.
Not surprisingly, the MoRPHotel would provide all the usual high-end, luxury hotel facilities such as swimming pools, haute cuisines, restaurants and a wide range of activities.
In keeping with an Ocean going hotel the MoRPHotel would also be designed to be almost entirely self-sufficient.  Electricity would be provided from energy derived from the modules moving on the waves.  Food would be supplied from floating vegetable gardens.  Very high levels of recycling would be included in the design to make the MoRPHotel the greenest hotel yet.
It's still at a concept stage but Gianluca says he has a lot of interest from potential backers.  This just could be one futuristic design to look out for soon.
Images are from stills of YouTube Video on next page.
Skip over to the next page to see the video of this intriguing concept hotel.